The Power of Poetry in Florence
Investing in arts and culture is increasingly being recognized as a catalyzing force for community development. Strategies to boost the visibility of arts and culture can improve the livability of community and boost economies through job creation, attracting investment, generating tax revenues, and stimulating local economies. Further, programs based in arts and culture can help communities grapple with local equity issues, such as pressures of gentrification and displacement, and explore questions around the preservation and development of diverse identities.
This story was developed in partnership with Community Literature Initiative, an organization working to empower poets of color and those from underserved communities to have a voice through poetry and performance, and to share their narratives through published books.
Immigrant Communities in Florence
Florence is a neighborhood in the City of Los Angeles with a population of 43,591. The neighborhood is located in the South L.A. region of the County. Approximately 80% of residents in Florence identify as Hispanic or Latino, and an additional 18% of residents in the neighborhood identify as Black. Florence is also home to a large and well established immigrant community. Approximately 40% of the Florence community are first generation immigrants, and about two thirds of the community's immigrants migrated to the U.S. before 2000, meaning that they have been residents here for over 20 years.
Approximately 70% of Florence residents are living at or below 200% of the federal poverty line, almost double the countywide average. Income, like other social determinants of health, can impact more than just a household's economic status – it can also impact household members' health. A 2016 study found that men in the highest one percent of the income distribution in the U.S. can expect to live almost 15 years longer than their counterparts in the lowest one percent of the income distribution. For women, the gap is just over 10 years.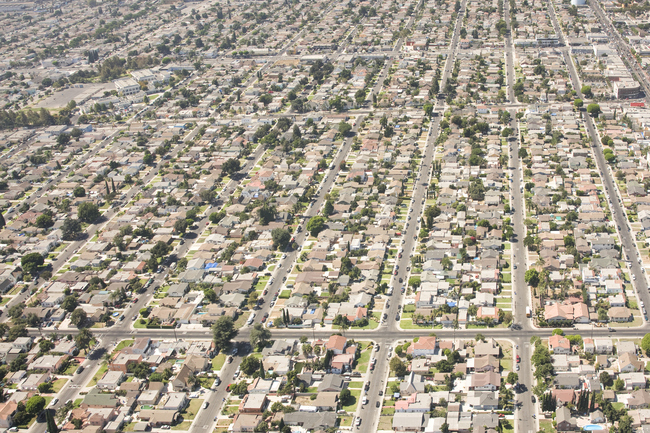 Income and health can become intertwined when a lack of housing stability and affordability takes a mental toll. In Florence, the vast majority of the population are renters, and 70% of renters in the neighborhood are considered "rent burdened," meaning they pay more than 30% of their monthly incomes on rent and utilities. Because mental health can change quickly from month to month or even day to day, finding a consistent measure at the neighborhood level is often difficult. However, a 2017 survey by the 500 Cities project can provide a small glimpse into the mental health of residents in the Florence neighborhood. In the survey, approximately 20% of adults in the community reported that their mental health was "not good" for at least 14 days out of a single month.
Creative Arts and Health/Well-Being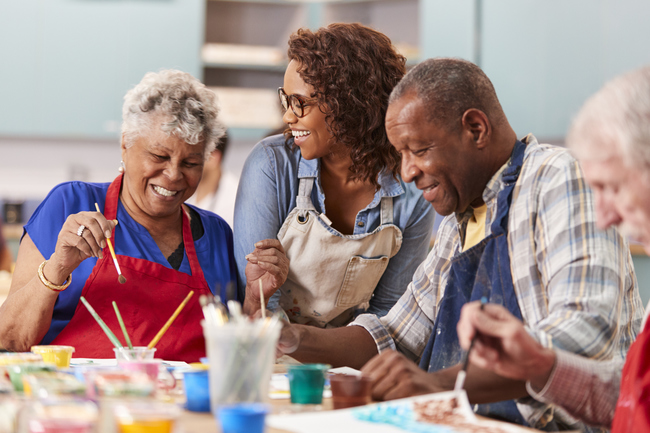 There is growing evidence that participation in creative arts programs has numerous benefits for well-being and health for all age groups. Studies have shown that participating in arts programs and receiving arts education are associated with improved cognitive, social, and behavioral outcomes in individuals across the lifespan. Further, the benefits of art and arts education for early childhood, youth, and adolescence include an increase in school-readiness skills and improved academic performance. Art programs promote positive development that facilitates the adoption of healthy behaviors and show gains for participants in self-discipline, motivation, as well as empathy and tolerance for others.
Arts education for older adults has also been shown to improve quality of life and optimize health outcomes. One study, which looked at the benefits of interactive storytelling interventions amongst African Americans with hypertension, found that the program produced significant improvements in blood pressure control for patients. This research suggests that storytelling can be used for health promotion, particularly for vulnerable populations, and that storytelling may be adaptable to support other chronic conditions besides hypertension. Additional studies further confirm that arts engagement for older adults encourages health-promoting behaviors, helps prevent cognitive decline, and leads to: improvement in higher overall physical health; fewer doctor visits; less medication use; fewer instances of falls; and fewer health problems.
Community Literature Initiative
Given the benefits of creative arts and storytelling on community wellbeing, the Community Literature Initiative (CLI), uses poetry and creative literature as a catalyst for uplifting South L.A. residents and brings educational and literary resources to underserved communities in the county. Founded in 2013 by Hiram Sims, who grew up in South L.A. and attended USC, CLI helps adults learn how to write poetry and publishes their completed work. Since its creation, CLI has taught nearly 150 students and published over 85 books of student work. They also recently opened the Sims Library of Poetry that will give access to poetry books, host Poetry and Publishing classes, and serve as a performance venue for residents of Florence.
Many of CLI's students are adults without college degrees, and they serve a high percentage of seniors and first-generation immigrants as well. Their programming encourages these students to capture stories and words that speak to the experiences of certain ethnicities, age groups, histories and geographies. For example, one student wrote poems for her community of elderly El Salvadorian women, capturing and sharing their stories through the beauty of poetry. Another finished the program with a children's book, "Say their Names", written for Black children to remember the victims of police brutality. 
Working with residents of Florence and South L.A., Community Literature Initiative has been a springboard for community members finding their voice. An example of how the program can be a catalyzer is the success of past CLI poetry student, Angela Aguirre, (aka Millennial Mija), a Chicana-Italian feminist author, speaker, and teaching artist, who published her first book in 2016 after completing CLI's poetry program. The book, "Confessions of a Firework", spoke to young Latina teens, encouraging strength and resilience. Ms. Aguirre went on to be the youngest to be honored as "Ten Women of the Year" by Senator Portantino in 2017.
Creative Art programs – such as the Community Literature Initiative – can serve in a key role to support efforts to increase opportunities for low-income and disenfranchised communities. They can improve quality of life for participants and offer intrinsic benefits that impact communities at large, as they help promote civic engagement and offer a new, positive vision of the community that supports them.
Sources
Catterall, J. S., Dumais, S. A., Hampden-Thompson, G. (2012). The arts and achievement in at-risk youth: Findings from four longitudinal studies (Research Report 55). Washington, DC: National Endowment for the Arts.
Chetty, R., et al. (2016). The Association Between Income and Life Expectancy in the United States, 2001-2014. The Journal of the American Medical Association.
Clift S. Creative arts as a public health resource: moving from practice-based research to evidence-based practice. Perspectives in Public Health. 2012 May;132(3):120-7. doi: 10.1177/1757913912442269. PMID: 22700576
Houston, Thomas, Jeroan J. Allison, Marc Sussman, Wendy Horn, Cheryl L. Holt, John Trobaugh, Marible Salas, Maria Pisu, Yendelela L. Cuffee, Damien Larkin, Sharina D. Person, Bruce Barton, Catarina I. Kiefe, and Sandral Hullett. "Culturally Appropriate Storytelling to Improve Blood Pressure." Annals of Internal Medicine 54, no. 2 (2011): 77–88.
National Endowment for the Arts . The Arts and Human Development. Washington, DC: National Endowment for the Arts, 2011
Photo Attributions
Cover Photo: Photo courtesy of Istock/georgeclerk
Photo 1: Photo courtesy of Istock/steinphoto
Photo 2: Photo courtesy of Istock/monkeybusinessimages
Photo 3: Photo courtesy of Istock/georgeclerk
Photo 4: Photo courtesy of The Community Literature Initiative