Young Adults and the Economic Impact of COVID-19
COVID-19 has brought several unexpected challenges to communities and institutions across the globe, including loss of life, overburdened healthcare systems, school closures, and high rates of business closures and job losses. Locally, the pandemic began to take an economic toll in mid-March, when L.A. County ordered the closure of all nonessential businesses to control the spread of the virus in alignment with Gov. Newsom's stay-at-home order issued the same day. According to the U.S. Department of Labor, by March 28th, more than one million people had filed new unemployment claims in California.
California was one of the first states to issue a stay-at-home order. In the weeks following, other states closed all nonessential business to flatten the curve of COVID-19 cases.  (View COVID-19 cases in Los Angeles County by neighborhood, race/ethnicity, and over time here.) According to the most recent national data, over 36 million Americans have filed unemployment claims as of May 2020.
Impacted Industries and Communities
A recent analysis by the Labor Center at University of California Berkeley showed that job losses and business closures in the state are heavily impacting industries for which remote work isn't possible, including restaurants and hospitality, child day care services, retail (excluding grocery stores), personal care services and transportation. A subsequent analysis found that the majority of front-line jobs in these impacted industries pay low wages and are more likely to employ people of color. These findings suggest that COVID-19 is exacerbating existing economic and social inequalities, and low-income neighborhoods and communities of color are bearing a disproportionate economic burden. This data story, developed in partnership with nonprofit talent development accelerator LeadersUp, examines the effect of COVID-19 on employment for young adults living in South L.A.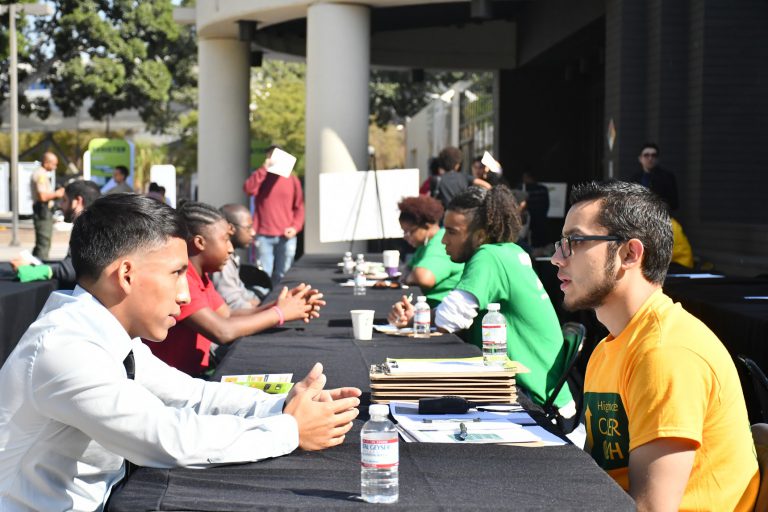 Opportunity Youth in South L.A.
According to the American Community Survey (ACS) data, South L.A. has one of the highest concentrations of opportunity youth (defined here as youth ages 16–24 who are neither working nor in school) in L.A. County. It is particularly important for people in this age group to be working or in school, because it is a critical time for developing ability, knowledge, skills and character traits (also known as "human capital") that are important for career path development. Due to a history of disinvestment ranging from redlining to freeway development, South L.A. is home to 10 of the 15 neighborhoods with the highest poverty rate for young adults (LeadersUp, 2016). 
These neighborhoods, shown in the map below, had higher rates of unemployment and opportunity youth than the county average before COVID-19. According to 2018 ACS data, 17% of youth ages 16-24 in these South LA neighborhoods were neither working or in school compared to the county average of 12%. Similarly, the unemployment rate in the ten neighborhoods was 9.1% in 2018 compared to the county average of 6.8%. Hover over a neighborhood on the map below to see the rates of unemployment and opportunity youth in 2018. 
Residents in these South LA neighborhoods may also be feeling the economic effects of COVID-19 more heavily than other parts of LA County.  The chart to the right shows the percentage of workers in some of the industries most heavily impacted by closures due to COVID-19 in the ten neighborhoods of focus compared to the LA County average.
The Economic Impact of COVID-19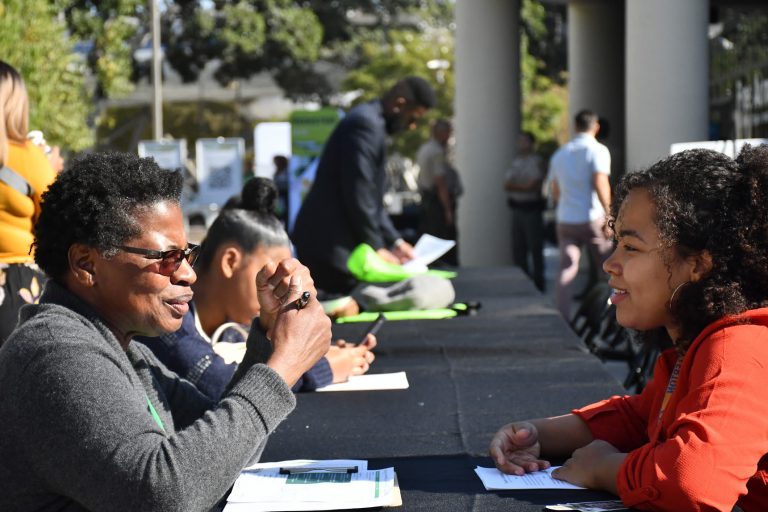 Recognizing the economic potential of young people in disinvested neighborhoods, LeadersUp connects opportunity youth to businesses seeking entry-level and middle-skill employees. Founded in South LA in 2013, the organization works to reduce youth unemployment in the ten neighborhoods of focus by working with both employers and job seekers from the recruitment and interview stages through training and retention. To date, they have connected over 1,600 opportunity youth to jobs in neighborhoods in South Los Angeles, the South Side of Chicago and the San Francisco Bay Area.
Currently, LeadersUp is working to understand the impact of COVID-19 on youth employment through a survey of 551 young adults in Los Angeles, San Francisco and Chicago. The survey found that 30% of respondents had been recently laid off due to COVID-19 and were not working, while 23% were still working but concerned about being laid off. Most of the respondents (46%) said they believe it would take between one and three months to find another job if laid off, and almost 30% believe it would take between three and six months. Young adults who were still working expressed frustration about a lack of concern for employee safety and health during the COVID-19 outbreak. The pie chart below shows the employment status of survey respondents. 
To complement its COVID-19 Young Adult Survey, LeadersUp partnered with Los Angeles World Airports (LAWA) and surveyed 85 companies to better understand how businesses are coping with the pandemic. 55% of companies have reduced their staffing cost by furloughing employees, reducing pay, cutting executive salaries or laying off employees.
These survey results show that COVID-19 is having a large impact on young adults, and that employers in hard hit industries like transportation are making a range of sacrifices to avoid business closures. Even as the economy starts to reopen, it is likely that hard hit industries will continue to be at a disadvantage.  For example, if restaurants are forced to operate at a reduced capacity once they open, fewer cook and waitstaff may be needed to meet demand, which may require limiting the number of employees that are re-hired or reducing worker hours.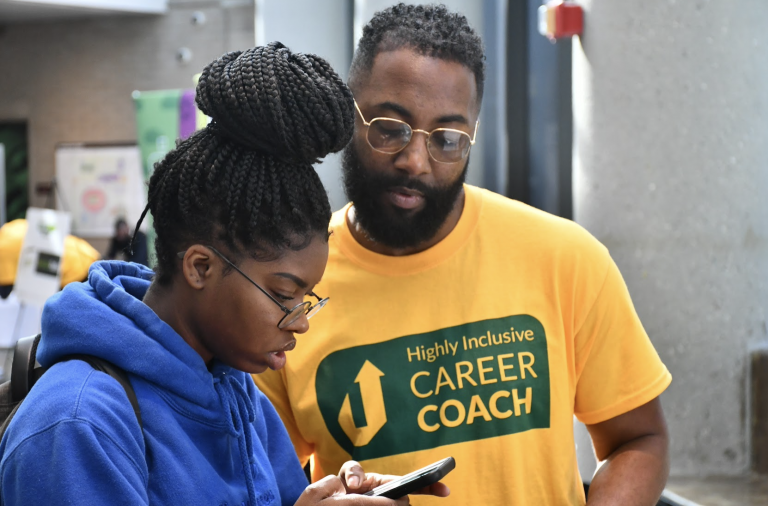 Given that communities like South LA will continue to be heavily impacted as the economy reopens, LeadersUp is developing COVID-specific strategies to support businesses and opportunity youth during this time. Key highlights include: 
Strategic rapid response to provide social and economic support and resources to displaced diverse talent
Training and upskilling displaced talent to prepare for employment opportunities with companies that value inclusive growth strategies 
Providing access to employment opportunities with employer partners that have current demand for talent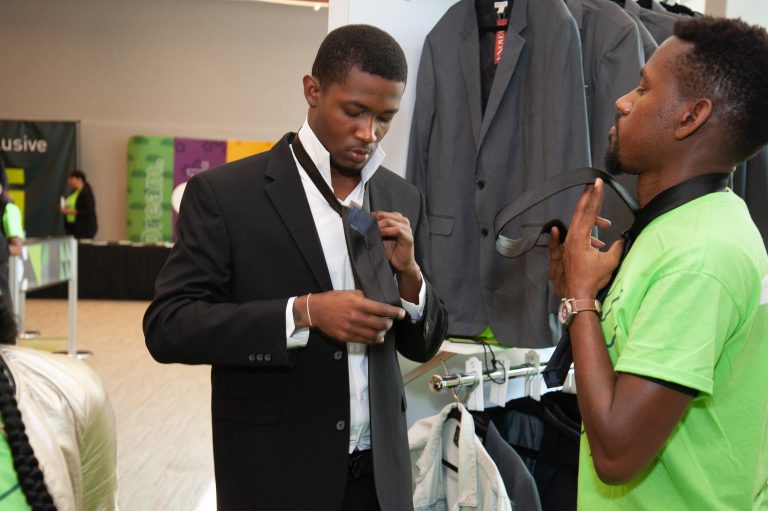 For over seven years, LeadersUp has been investing in opportunity youth and working to bring economic equality to communities of color in cities across the United States. As we begin to collectively plan an economic and social recovery from the devastation of COVID-19, organizations like LeadersUp can play a key leadership role in helping us shape a more just economy than we've ever had before. 
Sources

ABC10 (2020, April 28). COVID-19 [Video file]. Link
American Community Survey, 5-year estimates.
Gascon, C. (2020) COVID-19: Which Workers Face the Highest Unemployment Risk? Federal Reserve Bank of St. Louis. Link
LeadersUp (2020) LeadersUp COVID-19 Young Adult Survey.
United States Department of Labor (DOL) (2020) Unemployment Insurance Weekly Claims Data. Link
Rhee, N.; Bernhardt, A.; Jacobs, K., Lucia, L. (2020) Time to Act for Workers: Critical State and Local Policies to Respond to the COVID-19 Pandemic. Covid-19 Series: Resources, Data, and Analysis for California. UC Berkeley Labor Center. Link
Thomason, S.; Bernhardt, A.; and Rhee, N. (2020) Industries at Direct Risk of Job Loss from COVID-19 in California: A Profile of Front-Line Job and Worker Characteristics. Covid-19 Series: Resources, Data, and Analysis for California. UC Berkeley Labor Center. Link
Miller, G. (2016) Newly Released Maps Show How Housing Discrimination Happened. National Geographic. Link
Photo Attributions
All photos courtesy of LeadersUp