Financial Literacy & Health Among Women
Beyond genetics, many factors affect our health – some are related to personal behaviors and lifestyle choices, but others are connected to the material and social conditions under which we live. The Social Determinants of Health (SDOH) were developed as a way to understand those overarching social and economic conditions embedded in our lives that influence our health status. The SDOH are currently understood to be Economic Stability, Health Care and Quality, Neighborhood and Built Environment, Social and Community Context, and Education Access and Quality.
Of the factors that influence the SDOH, the association between personal economics and health is one of the most significant. Wealth has cascading effects throughout the lives of individuals and families. In our society, the quality of one's living conditions, standard of food, and the caliber of healthcare are all directly related to financial resources. A study of over a billion tax records spanning 15 years by the Journal of the American Medical Association found that lower incomes were correlated with higher disease prevalence, severity, and lower overall life expectancy. It is not surprising, then, that anxiety around finances and health consistently ranks as one of the top stressors for Americans.  (See graphic below)

Because health disparities are associated with unequal financial means, they overlap with traditional inequities connected with gender and race. Overall, women are generally poorer than men, earning just 85 cents for every dollar their male coworkers earn, making the link between finance and health particularly salient. Single-family households headed by females were almost twice as likely as those headed by males to be living in poverty. According to the American Psychological Association women, "report higher levels of stress about money and are more likely than men to say they feel stress about money all or most of the time." Stress about money can manifest in unhealthy coping mechanisms that may have negative health consequences of their own. Women who experience financial stress are more likely to engage in sedentary or unhealthy behaviors to manage stress that include watching tv or surfing the internet, eating, drinking alcohol, or smoking than their low-stress counterparts. (See graphic below)

Black, Latina, and Asian women all self-report worse health than their white counterparts (See graphic at left). Women who earn less than 100% of the Federal Poverty Level all have more poor mental and physical health days than white women. Additionally, compared with white women, Black women have higher levels of smoking, obesity, heart disease, cancer, and infant and maternal mortality and Latinx women have high levels of obesity, and diabetes-related mortality. The Covid-19 Pandemic only exacerbated these financial disparities as women were overrepresented in public-facing and low-wage industries that shed workers during the crisis.
The Need for Financial Literacy
Experian defines financial literacy as "the confident understanding of concepts including saving, investing and debt that leads to an overall sense of financial well-being and self-trust." Financial literacy can include everything from increasing 401k contributions as salary increases, to having an emergency fund, to understanding credit card interest rates, or knowing how to check a personal credit score. Overall, financially knowledgeable individuals are more likely to accumulate wealth and stave off the negative health effects that stem from poverty.

Despite earning less, women also suffer from a financial knowledge gap. According to Standard and Poor's Global Financial Literacy survey women in the United States and throughout the world display less financial literacy than men (See graphic below). The reasons for this are complicated and still being understood. Past literature suggested that traditional roles within the family have given men more control over finances and therefore allowed them to accumulate more financial knowledge. However, these gender differences persist even among single men and women.  Others have hypothesized that the financial knowledge gap is a result of unequal gender roles within the broader society.
Given the precarious position women find themselves in with respect to money, one solution might be to help them understand how to do more with less. Financial education may provide an answer to closing this knowledge gap and helping women leverage their financial assets in ways that benefit their overall financial and physical health. While there is limited research, a small Creighton University study on the effect of financial education on the single, low-income women showed an $8,026 increase in average annual income and significant enhancements in health-related quality of life for women who completed the program. In the Standard and Poor survey, although men generally had more financial knowledge, they were also more likely to be 'very confident' about their answers, even when they were wrong, with women more likely to admit when they were unsure of the answer to a question. This suggests that they may be more amenable to education from financial literacy programs.
Iris Cantor - UCLA Women's Health Education & Research Center
The  Iris Cantor – UCLA Women's Health Education and Research Center (WHERC) is attempting to close this knowledge gap and provide a valuable service for women. Founded in 1995, the Center aims to fuse research, medical instruction, clinical care for women, and public health education around the common goal of improving women's health throughout the life cycle. One of the public programs offered by the Center is called Women's Health & Money". The program format and curriculum was built on a focus group study conducted by WHERC to explore the connection between finances and mental health among Latinas in Los Angeles.  The study concluded that interventions should incorporate peer support, education on financial products and tools, and therapeutic approaches to addressing financial stress.
Utilizing study outcomes and evidence-based health and financial education programs, the initiative was originally a series of four free health and financial education sessions aimed at improving women's health and financial literacy. Initially, it was offered at job-training centers, worksites, schools, and community centers, but since the pandemic the format has been consolidated and moved online. The program's focus is on the social components that influence the health and financial stability of low-to-moderate-income women in Los Angeles. These factors include meaningful work, stability, living wages, equity, education, community, and mobility. Low-to-moderate-income women receive life skills training with financial and health coaching, assistance accessing health care, and individualized money management assistance. The objective is to move women towards achieving  self-sufficiency, financial security, housing stability, fulfilling employment, and optimal health.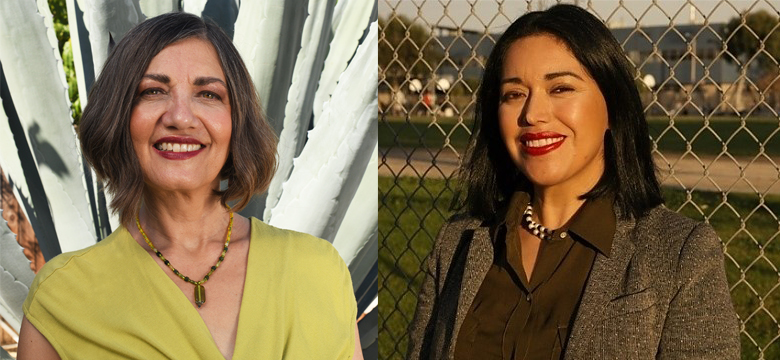 Over half of the participants in the program described their financial situation as "just getting by." More than half also indicated that they were only making the minimum payments on their credit cards. Sixty percent of the participants had incomes below $23,700. After completing the program follow-up surveys of participant cohorts indicated that knowledge of good financial management practices was improved by 13-18% and motivation to follow those practices was enhanced by 20-32%. On the health side, health-related knowledge gains ranged from 17-23% with 23-35% of participants vowing to follow through on health behavior improvements. (See graphic below)
By recognizing the intimate connection between financial stability and mental and physical well-being, the Women's Health and Money program makes a real difference in the lives of working-class women and helps families achieve financial stability.  One participant, Carmen, said of the program, "Before receiving these workshops, I didn't know much about finances and eating healthy, but now I'm making positive changes. As soon as I get the amount of my expenses, I make my own budget. After receiving the nutrition workshop, I have also begun to drink water and eat vegetables and fruits. Thank you!"
Sources

American Psychological Association. (2015). Stress in America: Paying with our Health https://www.apa.org/news/press/releases/stress/2014/stress-report.pdf
American Psychological Association. (2021). Stress in America 2021, Stress and Decision-Making During the Pandemic. https://www.apa.org/news/press/releases/stress/2021/decision-making-october-2021.pdf
Bucher-Kohen, T., Lusardi, A., Alessie, R & van Rooj, M. (2016). How Financially Literate Are Women? An Overview and New Insights. The Journal of Consumer Affairs. https://onlinelibrary.wiley.com/doi/10.1111/joca.12121
Blanco, L. R., Baker, J. A., Friedman, J. A., Singh, K. T., Brown, A. F., Moon, S. D., Carson, S. L., Hsu, A., & Pregler, J. (2020). Perspectives on Finances and Mental Health Status among Low-Income Los Angeles Latinas. Journal of Financial Therapy, 11 (2) 4. https://doi.org/10.4148/1944-9771.1221
Chetty, R., Stepner, BA., & Abraham, S. (2016). The Association Between Income and Life Expectancy in the United States, 2001-2014. Journal of the American Medical Association, 315(16), 1750–1766. https://jamanetwork.com/journals/jama/article-abstract/2513561
Closing the Women's Wealth Gap. (2020). On the Margins: Economic Security for Women of Color Through the Coronavirus Crisis and Beyond.  https://womenswealthgap.org/wp-content/uploads/2020/04/OnTheMargins_April2020_CWWG.pdf
Klapper, L., Lusardi, A., Oudheusden, P., (2016).  S&P Global Ratings.  Financial Literacy Around the World. https://gflec.org/wp-content/uploads/2015/11/3313-Finlit_Report_FINAL-5.11.16.pdf
Los Angeles County Department of Public Health. (2017). Health Indicators for Women in Los Angeles County. http://publichealth.lacounty.gov/owh/reports/EnhancedPDF/OWH-WomensDataReport.Enhanced2018.pdf
Robin, B., Khattar, R., Joceyln, F., (2021). Center for American Progress. Women of Color and the Wage Gap. https://www.americanprogress.org/article/women-of-color-and-the-wage-gap/
White, N.D., Packard, K.A., Flecky, K.A., Kalkowski, J.C., Furze, J.A., Ryan-Haddad, A.M., Black, L.L., Rusch, L.M., Qi, Y., (2018). Two Year Sustainability of the Effect of a Financial Education Program on the Health and Wellbeing of Single, Low-Income Women. Journal of Financial Counseling and Planning, 29(1), n.p. https://connect.springerpub.com/content/sgrjfcp/29/1/68