Resilience and Rebuilding: COVID-19 Recovery in South Los Angeles
During the first half of the twentieth century, tens of thousands of Black Americans migrated to a rapidly expanding Los Angeles. Explicitly racist housing covenants and lending practices restricted newly arriving Black Angelenos to neighborhoods around Central Avenue in what is today known as South Los Angeles. In this geographic confinement, a rich and vibrant cultural scene developed. Historic 'South Central' became the epicenter of West Coast Jazz culture and earned the moniker 'Harlem of the West'. Venues like the Lincoln Theater and Club Alabam hosted Billie Holiday, Johnny Otis, Josephine Baker, and other musical legends. In 1928, the Dunbar Hotel hosted the first West Coast Convention of the NAACP. Historical South Central was the intellectual hub of the black community in Los Angeles. During this same time, South LA was a key manufacturing hub, anchored by the Goodyear rubber plant, and supported a growing middle class. Seventy percent of Los Angeles' black population resided in the neighborhood by 1970.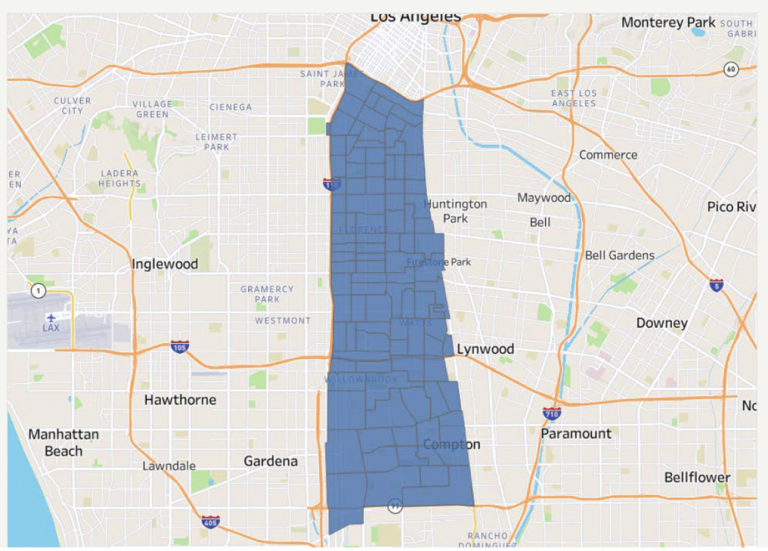 'South LA' comprises 101 census tracts in the eastern portion of South Los Angeles and contains parts of both the City of Los Angeles and the City of Compton. It is bounded on the west by the 110 Freeway, on the south by the 91 Freeway, on the east by Alameda Street, and on the north by the 10 Freeway        
Tectonic Shifts in South LA
In addition to being a cultural and economic epicenter, South LA has also been home to a number of historic social justice movements and uprisings. By mid-century, factory closures created a wave of growing unemployment and poverty in the region. Construction of freeways through black neighborhoods, and increased tensions with a hostile Los Angeles police department pushed the community to a breaking point. The Watts Uprising, a week of social unrest in 1965, was a communal reaction to these pressures and a key moment in the Civil Rights Movement of the 1960s.
In recent decades, shifting demographics have resulted in a majority Latino population in South Los Angeles. Mounting poverty, outsourcing of local industry, and systemic inequality continued to stress the social fabric. Two more monumental uprisings, one in 1992 and another in 2020, erupted in the neighborhood as a multicultural community confronted discriminatory  policing and a lack of economic opportunity in the area.
Data from the 2019 American Community Survey (ACS) shows that contemporary South LA is home to 475,000 people; just shy of five percent of Los Angeles County's population. The community is 79% Latino/a and 18% Black. Forty-three percent of households have children, compared to approximately 25% countywide. Despite the ongoing challenges of racism and inequality, South LA continues to be a foundational pillar in the culture of the Los Angeles metropolitan region. 
South LA & the COVID Pandemic
It is against this backdrop that the community confronted the COVID-19 pandemic in 2020. The virus had a disproportionate impact in South Los Angeles as shown in the graph below. According to 2021 data from the Los Angeles Department of Public Health (DPH), South LA experienced approximately 22,000 cases per 100,000 residents, while the county logged roughly 14,500 cases per 100,000 residents. Deaths were higher as well, with 313 Deaths per 100,000 residents compared to 261 in broader L.A. County. Additionally, vaccination rates as of October 2021, especially among children, continue to lag in South LA.
Economic Stability During COVID-19
While the pandemic substantially impacted the health of the community, it also had a significant impact on other areas of civic life. The Coalition for Responsible Community Development (CRCD) recently commissioned a report with the USC Price Center for Social Innovation that examines the impact of the pandemic as well as proposed solutions through the perspective of the "social determinants of health." The U.S. Department of Health and Human Services (HHS), defines the social determinants of health as the "conditions in the environments where people are born, live, earn, work, play, worship, and age that affect a wide range of health, functioning, and quality-of-life outcomes and risks". HHS groups the social determinants of health into five areas: Health Care Access and Quality, Social Community Context, Economic Stability, Neighborhood and Built Environment, and Education Access and Quality. Given South LA's precarious economic situation, it is helpful to consider the impact of the pandemic specifically through the lens of the 'economic stability' determinant. (View the full report to learn more about COVID-19's impact across other social determinants of health in South LA).
 Prior to the pandemic, many renters in Central and South Los Angeles already suffered from severe rent burden. A 2019 survey conducted in the area revealed that the median household spent an average of 48% of it's income on housing related costs. Pre-pandemic household income in South LA was $24,500 lower than the county median, while the unemployment rate was 2.7% higher. Data from 2018 indicates that approximately 42% of employed South LA residents worked in the three industries – retail, manufacturing, and transportation / warehousing – with the most COVID cases in L.A. County. That number is much higher than the city average of 16%, which makes South LA's workforce uniquely vulnerable to COVID infection and its commensurate health and economic costs. Furthermore, data also show that 68% of employed individuals residing in South LA worked in the six industries with the highest incidences of unemployment claims filed during the pandemic, compared to only 34% for L.A. County. This implies that South LA workers were also subject to the erratic closures and layoffs that ravaged these industries throughout the pandemic. Additionally, the pandemic's impact may have been amplified by the fact that 72% of South LA's immigrant workforce consists of non-naturalized individuals, who may have lacked the documentation necessary to take advantage of unemployment benefits.
In addition to the impact on workers in South LA, it is also important to consider the pandemic's impact on business owners in the neighborhood. In 2020, despite the pandemic, there were roughly 360 fewer business closures in South LA than in 2019. The graphic displays South LA's business openings and closings from 2010-to 2020.  
One explanation for fewer closures could be the federal Paycheck Protection Program (PPP). Low-interest PPP loans may have enabled small businesses that would have otherwise closed to weather the pandemic and stay open. According to the Small Business Administration, just over 14,600 loans were dispersed to South LA businesses. The relative number of loans dispersed in South LA was actually higher than in greater Los Angeles County. Per 10,000 jobs, the SBA made approximately 1,400 loans in South LA, but only made about 900 loans per 10,000 jobs in broader L.A. County. Furthermore, the loans appear to have benefited genuine small businesses, with 83% of loan recipients in the community having fewer than five employees and 70% of recipients being sole proprietors, self-employed, or independent contractors. 
An Equitable Recovery for South LA
PPP loans do appear to have given South LA businesses a vital lifeline during the pandemic, but the data reveal there is more work to be done. While 38% of eligible loans made countywide were forgiven, only 29% of loans made to South LA businesses were forgiven. Research indicates that Black business owners confronted discrimination and difficulties accessing PPP funds. Nationally, Black loan recipients were more likely to access loan funds via an online lender rather than a traditional bank. This may be because South LA has just four banks and credit unions per 100,000 residents, giving local businesses considerably fewer resources for access to lending and consultations. Countywide that number is 59 per 100,000. While access to online lenders may have initially increased Black-owned businesses access to vital capital, it also could have hindered their ability to navigate the intricate requirements of the loan forgiveness process.
The pandemic has exacerbated historically discriminatory policies and disinvestment that the community has long experienced. A holistic response will include investments toward equitable COVID-19 recovery efforts that support a vibrant economic future for the area. Fortunately, South LA is home to resilient community networks and a social service infrastructure that are aptly positioned to spearhead recovery efforts and leverage funding from public and private institutions. Suggestions included guaranteeing that local residents benefit from new sports and culture ventures, and supporting public-private partnerships that leverage current community outreach. Other economic remedies include linking small businesses with non-predatory lenders and technical support, helping residents access training and employment in sectors that pay living wages, and ensuring that opportunities are equitably distributed regardless of citizenship status.  (View the full report to read all recommendations for an equitable recovery in South LA).
Sources

American Community Survey. link
Bell, A., Hedin, T., Schnorr, G., Von Wachter, T. (2020, December 21). An Analysis of Unemployment Insurance Claims in California During the COVID-19 Pandemic. California Policy Lab. link
The Coalition for Responsible Community Development. link
Contreras, Z., Ngo, V., Pulido, M., Washburn, F., Meschyan, G., Gluck, F….Halai, U. (2021).Industry Sectors Highly Affected by Worksite Outbreaks of Coronavirus Disease, Los Angeles
County, California, USA, March 19–September 30, 2020. Emerging Infectious Diseases, 27(7), 1769-1775. link
Glasmeier, Amy K. (2020). Living Wage Calculator. Massachusetts Institute of Technology. link
Howell, S., Kuchler, T., Snitkof, D., Stroebel, J. & Wong, J. (2021, October 15). Racial Disparities in Access to Small Business Credit: Evidence from the Paycheck Protection Program. link
Lederer, A. & Oros, S. (2021). Lending Discrimination within the Paycheck Protection Program. National Community Reinvestment Coalition. link
Los Angeles Department of Public Health. link
Los Angeles Open Data. link
Rosen, J., Angst S., De Gregorio, S., Painter, G., (2020). How Do Renters Cope with Unaffordability? USC Sol Price Center for Social Innovation. link
Small Business Administration. link
U.S. Census Longitudinal Employer-Household Dynamics. link
Photo Attributions
Cover Photo: Photo courtesy of Istock/trekandshoot
Photo 1: Photo courtesy of Zimmerman, Tom, Public domain, via Wikimedia Commons
Photo 2: Photo courtesy of Wikimedia Commons/ Paul Nadar, Public domain, via Wikimedia Commons (found at: https://commons.wikimedia.org/wiki/File:Jos%C3%A9phine_Baker_-_photographie_Nadar.jpg)
Photo 3: Photo courtesy of William P. Gottlieb, Public domain, via Wikimedia Commons (found at: https://commons.wikimedia.org/wiki/File:Billie_Holiday_0001_original.jpg)
Photo 4: Photo courtesy of Brück & Sohn Kunstverlag Meißen, CC0, via Wikimedia Commons (found at: https://commons.wikimedia.org/wiki/File:08316-Los_Angeles-1906-The_Broadway_Hotel-Br%C3%BCck_%26_Sohn_Kunstverlag.jpg)
Photo 5: Photo courtesy of New York World-Telegram, Public domain, via Wikimedia Commons (found at: https://commons.wikimedia.org/wiki/File:Wattsriots-policearrest-loc.jpg)
Photo 6 Photo courtesy of National Guard Education Foundation, Public domain, via Wikimedia Commons (found at: https://commons.wikimedia.org/wiki/File:40th_in_Watts.jpg)

Photo 7: Photo courtesy of morrisonbrett, CC BY 2.0, via Wikimedia Commons (found at: https://commons.wikimedia.org/wiki/File:Black_Lives_Matter_-_Century_City_Protest_-_June_6,_2020_-_49978626463.jpg)