El Monte: More Than Just a Pass-Through Community
A Small City in a Giant Metropolis
Although the City of Los Angeles is the second most populous in the U.S., it makes up just 39% of the 10 million people living in Los Angeles County. With 88 incorporated cities, Los Angeles County contains four to five times the number of cities of other large metropolitan counties, presenting unique challenges and opportunities for individual cities and the metro area as a whole.
Located in the San Gabriel Valley less than 20 miles from Downtown Los Angeles, El Monte is Los Angeles County's tenth largest city with approximately 116,000 residents.  Every day, hundreds of thousands of people from surrounding communities pass through El Monte via the various transportation corridors and hubs that exist within the city including the 10 and 605 freeways, the El Monte Station bus terminal, and the Metrolink commuter train line. Yet, El Monte is more than just a gateway city for Los Angeles workers; the city is working to leverage its unique position as a small city with many transportation assets to solve some of the housing, environmental, and economic challenges facing many cities across Los Angeles County.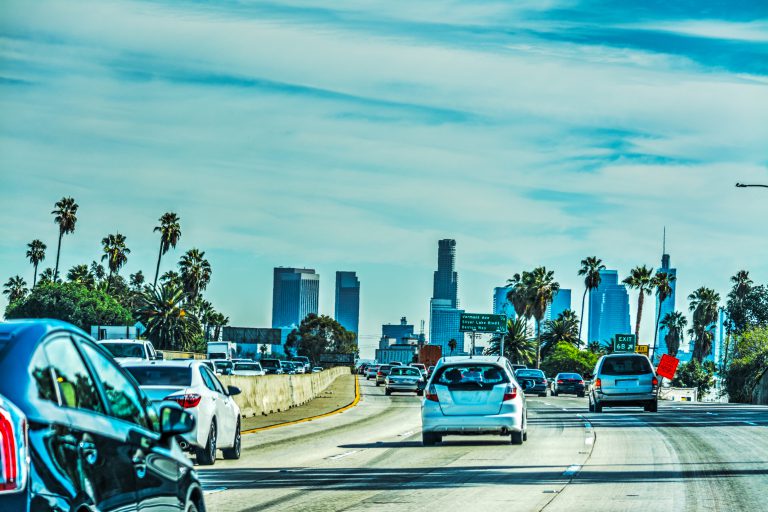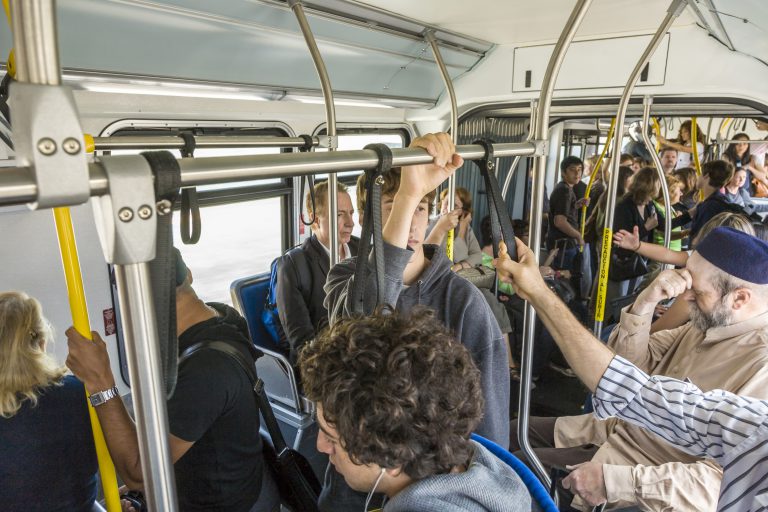 El Monte: Past and Present
Situated on historically Tongva land between the San Gabriel and Hondo Rivers, what is now El Monte began in the mid-19th century as a settlement of migrants from Texas, Arkansas, and Missouri who traveled along the Santa Fe and Old Spanish Trail trade routes to California in search of gold. The population swelled over the course of the 20th century with an influx of Japanese immigrants in the early 1900s, white migrants from the Dustbowl Migration in the 1930s, Chinese immigrants towards the end of the century, and later grew into a predominantly Latino community.
Today, El Monte's demographic makeup is quite different. The chart to the right compares the racial demographics of El Monte with Los Angeles County as a whole:
The economy of El Monte has also changed. In what used to be a heavily agricultural community, El Monte residents now work primarily in the manufacturing, retail, healthcare and social assistance, and construction industries. The chart below displays the top industries employing El Monte residents. 
Many of the challenges that are impacting the greater Los Angeles region are also evident within El Monte including lack of housing affordability and homelessness, air and water pollution issues, and lack of parks and greenspace. However, through partnerships with Los Angeles County departments, strategic transit-oriented development projects, and innovative housing models, El Monte is making strides to overcome these challenges.
Like in many parts of Los Angeles County, housing affordability and homelessness are salient issues in El Monte. Since 2016, the number of people experiencing homelessness in El Monte has more than doubled, and more than 65% of renter households in the city are rent burdened, compared to 56% across the county. Like other cities in large metro counties, El Monte is experiencing increasing land values. These increases coupled with a higher than average poverty rate and a lower than average median income have made the city's homeownership rate low (40%) compared to the county average (46%). The chart below details these housing and earnings metrics:
The City of El Monte is on the forefront of addressing these issues, with a track record of prioritizing affordable housing for people experiencing homelessness as well as low-income individuals and families. Compared to surrounding communities El Monte has built an impressive number of affordable housing units, especially for low-income veterans and their families.  According to data from the United States Department of Housing and Urban Development (HUD), El Monte currently has 826 units of affordable housing across ten buildings subsidized by the federal Low-Income Housing Tax Credit (LIHTC) program, 40% of which were built in the last 10 years.  The map below shows El Monte's LIHTC units built in the past decade compared to its neighbors. As of 2017, El Monte had more LIHTC units than the nine communities that directly border it combined even though their aggregate population is more than double that of El Monte's.
About 130 of these affordable units are part of the ongoing El Monte Gateway project, a $700 million transit-oriented development located next to the El Monte Station that contains both affordable and market rate housing, hotels, retail, and park space. Another recently opened project is the Palo Verde Apartments (pictured below), which contains 49 affordable units, 23 of which are reserved for veterans experiencing homelessness. In addition to these recently opened units, over a hundred more are currently under construction across the city.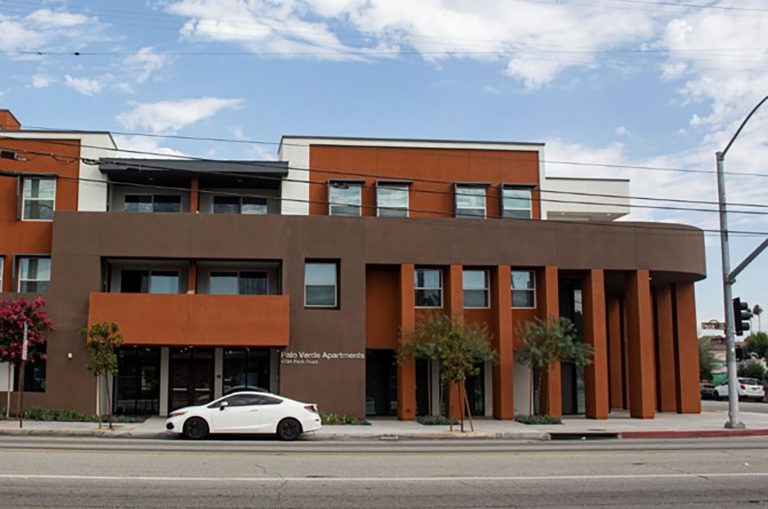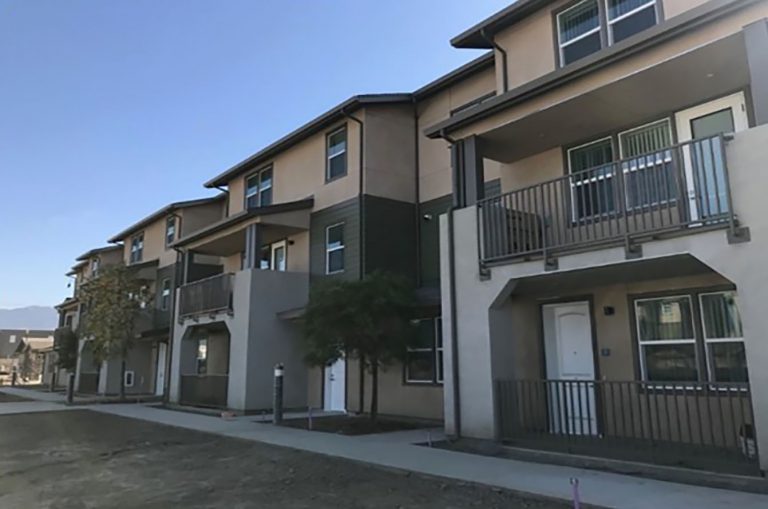 Additionally, housing developer LifeArk, one of the winners of the Los Angeles County Homelessness Initiative's Housing Innovation Challenge is in the planning stages of an innovative permanent supportive housing project in El Monte. The development, which will feature prefabricated modular construction using a low-cost and easy to assemble polymer material, will ultimately house 18 individuals experiencing chronic homelessness. The housing will also be accompanied by wraparound support services including healthcare, case management, and mental health services provided by a third party homeless services provider called the Illumination Foundation.
Parks and Environmental Health
In addition to increasing land values, residing in a large metro area like Los Angeles County also poses environmental challenges. Due to its proximity to multiple freeways and the presence of manufacturing facilities within the city, El Monte faces above average air and water pollution levels.  Evidence suggests a link between air pollution and higher asthma rates among children, especially in highway-dense areas. Groundwater pollution also has negative health implications for people of all ages.
In an effort to make El Monte a healthier place to live and work, the city recently unveiled a new water treatment plant which will convert polluted groundwater from the San Gabriel basin into potable water at a rate of almost 400 million gallons per year. Moreover, with its emphasis on transit-oriented development, the city is enabling residents to rely less on cars and more on environmentally friendly public transportation options, thereby reducing carbon emissions and air pollution in the area.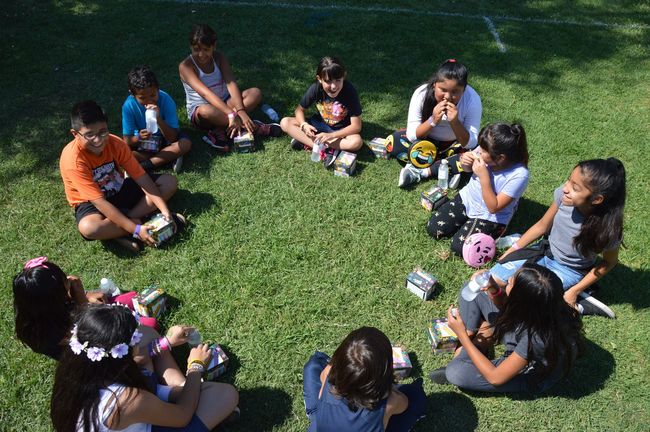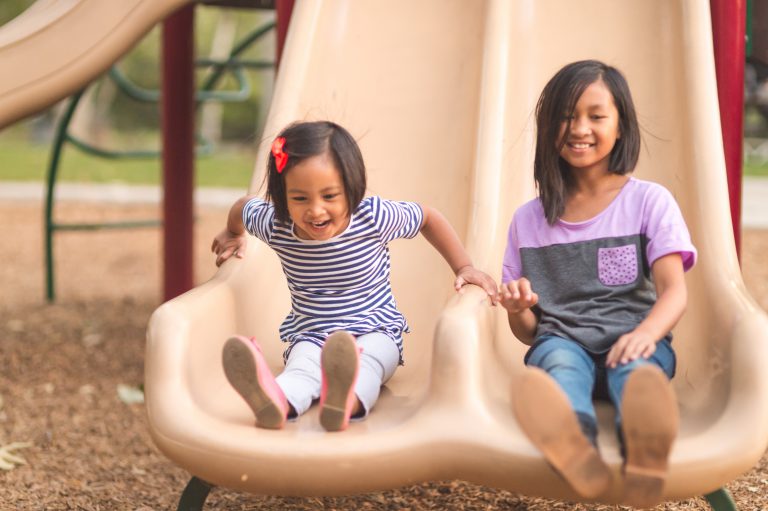 Additionally, while the city maintains 10 parks, the total acreage of greenspace per capita is low for the county with just 0.42 acres per 1,000 residents. To address this shortage, El Monte has been working on revamping existing parks and creating new greenspace out of underutilized city and county property. Funding for these improvements has come from a variety of sources including grants from the California Natural Resources Agency to plant trees and add walk and bicycle trails to Zamora Park, and the California Community Foundation to make Mariposa Park the site of a community-driven public art project.
As part of the El Monte Gateway project, the City of El Monte is also enhancing Pioneer Park, an existing park in the project area, according to recommendations generated by community members over the course of a series of participatory planning meetings. The updated park will include a sports plaza with baseball and soccer fields, children's play areas, an amphitheater, a community recreation building, picnic areas, and the 1890s ranch-style Osmond House maintained by the El Monte Historical Society. The park will also feature native plants and sustainable landscaping plus walking and bicycle trails along the Rio Hondo that will connect to trails in Fletcher Park to the South. 
Stepping Up to the Challenge
El Monte's commitment to providing its residents with affordable housing options and active greenspace shows how the city is stepping up to the complex challenges facing the Los Angeles metro area as a whole. The City of El Monte has found creative ways to flip its abundance of transportation options from an environmental burden to a positive asset for its community. Moving forward, El Monte's efforts can serve as a model for surrounding communities to improve the economic, health, and housing outcomes of their residents. 
Sources

City of El Monte. (2006). El Monte Gateway Specific Plan. Link.
Esri. (2015). Traffic Count Map, El Monte City, CA. Link.
Joint Center for Housing Studies of Harvard University. (2019). Increasing Land Prices Make Housing Less Affordable. Link.
Keet, Keller & Peng. (2017). Long-Term Coarse Particulate Matter Exposure Is Associated with Asthma among Children in Medicaid. Link.
Los Angeles County Homelessness Initiative. (2019). Housing Innovation Challenge. Link.
United States Geological Survey. (2019). Contamination of Groundwater. Link.
Photo Attributions
Cover Photo: Photo courtesy of Istock/Richard Par
Photo 1: Photo courtesy of Istock/Gabriele Maltinti
Photo 2: Photo courtesy of Istock/Meinzahn
Photo 3-5: Photo courtesy of the City of El Monte
Photo 6: Photo courtesy of Istock/Fat Camera